Planned Giving
Your act of generosity, our longevity
With planned giving, you can provide long-lasting support for the Memphis Jewish community while enjoying financial benefits for yourself.

Life Insurance - Dr. and Mrs. Larry Wruble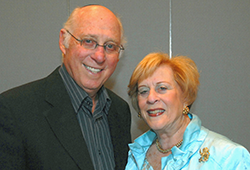 Larry and Diane Wruble have been involved with the Margolin Hebrew Academy/Feinstone Yeshiva of the South for more than 40 years, beginning when their children were students and extending now to their grandchildren. The Wrubles wanted to establish a charitable gift for the school that would take place at the end of their lifetimes. They purchased a life insurance policy and named MHA/FYOS as the beneficiary.
"Larry and Diane support MHA/FYOS on an annual basis, but they wanted to leave something to the school after their lifetime. Choosing a life insurance policy was perfect because the current costs are not so high, but the payoff to the school is," said Sandy Blockman, the Wruble's financial advisor.
Life insurance policies have been a popular vehicle for Jewish Memphians to make deferred gifts for the benefit of their favorite charitable organizations. The Jewish Foundation of Memphis has been involved in the purchase of over two dozen policies all of which name one or more of our local Jewish institutions as the ultimate beneficiary.