Planned Giving
Your act of generosity, our longevity
With planned giving, you can provide long-lasting support for the Memphis Jewish community while enjoying financial benefits for yourself.

Charitable Remainder Trust - Alvin and Becky Labens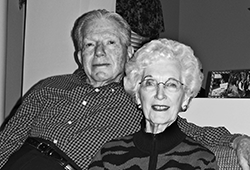 When Dr. Alvin Labens closed his optometry practice in Clarksdale, Mississippi after 47 years, he and his wife, Becky, were faced with some challenging financial decisions.
"There was a substantial amount of money invested in my practice over the years including stock investments," said Alvin. "We realized that we were getting ready to be hit with a pretty hefty tax bill. Rather than see that money taxed as income, we began exploring ways to give some of that money to charity so it could be used to help others."
When the Labens met with their attorney to prepare their wills, they discussed ways they could leave some of their investments to their favorite charities. Through a Charitable Remainder Trust, they learned that they could support the organizations that had meant so much to their own families and members of their small Mississippi community and at the same time earn income for the remainder of their lives.