Planned Giving
Your act of generosity, our longevity
With planned giving, you can provide long-lasting support for the Memphis Jewish community while enjoying financial benefits for yourself.

Bequests - Mannie and Rosie Riesenberg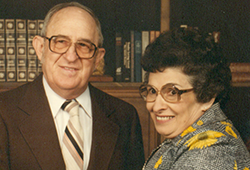 Devoted to both Anshei and their Jewish community, Mannie and Rosie Riesenberg (of blessed memory) utilized the services of the Jewish Foundation to establish a charitable bequest for the benefit of ASBEE. Both were extremely involved at the shul. Mannie was on the board of directors and a tireless worker for the bingo fundraisers and Rosie served as treasurer of the Ladies Auxiliary. Upon their death, a gift was made to the Norma Lit Torah and Tzedakah Fund at the synagogue. Of the gift, his son, Barry said, "Just as my father wanted to bequeath a legacy to his family; he also wanted to leave a legacy to the shul".